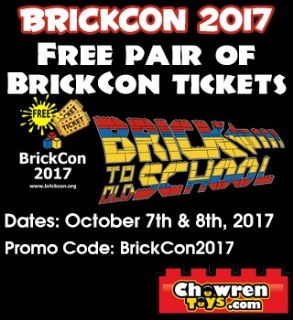 Jason at Chowren Toys writes:
This is our 5th year of Sponsoring BrickCon and we will be giving away free tickets to this awesome event! We have total of 12 FREE pairs of tickets (24 tickets) to the public exhibit at the Seattle Center in Seattle, Washington USA.
These tickets are good for one day only and for any of the day's entrance time until exit time, which is when they close for the day. Please visit brickcon.org for more details and plan your trip accordingly.
All Brickset readers need do is enter the promo code BrickCon2017 at the check-out to get the free tickets. Please note we will ONLY ship to an US address and the tickets include free USPS First Class Mail shipping.
It is 1 pair of tickets per household. They are not for resale as they have no dollar value. There are only 12 pairs so only take these if you are serious about attending.